The #1 best-selling e-book is now available as an expanded-edition hardcover. Now with two additional chapters, this first printed edition of Summer's Path by DailyOM co-founder Scott Blum presents the remarkable story of Don Newport, an engineer who comes face-to-face with his personal destiny under extraordinary circumstances. After losing his job and his health insurance, Don learns that he has a terminal disease, with only a few months left to live. On his deathbed, he meets Robert, a brazen angel of death who promises to help him with a graceful exit. As Don prepares to say his last goodbyes to his loving wife, Robert attempts to change Don's perspective about his mortality and proposes an exceptionally unique option.

Robert leads Don through an astounding meditation of life and death and reveals various healing and spiritual concepts, including walk-ins, animal communication, embodiment, and soul destiny. On this magical journey of self-realization, Don discovers that it's never too late to learn profound life lessons about ourselves and our loved ones.

Summer's Path is the prequel to the best-selling book Waiting for Autumn.




You can order Summer's Path from one of these retailers: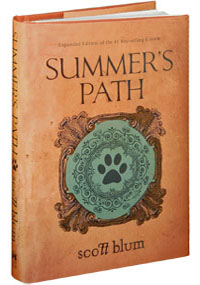 "On this transformational journey, Blum shares profound life lessons on how to overcome adversity when life deals you the most unfortunate of hands. This healing book is an insightful gift of hope and wisdom for anyone who finds themselves in difficult situations. A must-read."



- Debbie Ford, the co-author of The Shadow Effect
"Summer's Path is an inspiring story of discovery and wonder by Scott Blum, the path-forging co-founder of DailyOM. This lovely book is a life-and-death exploration of the great Mysteries that leads us straight to the heart."



- Judith Orloff, the author of Emotional Freedom
"Once in a while a story is written that touches the heart, the soul, and the mind with depth and resonance. Themes of birth, death, grief, surrender, redemption, acceptance, and love are among the many woven throughout the tapestry of this timely story by author Scott Blum. Give yourself a gift to awaken your heart and read this inspiring book."



- Colette Baron-Reid, the author of Messages from Spirit