The third installment in Scott Blum's best-selling series of enchanting novels, Winter Moon Rises continues where the semiautobiographical Waiting for Autumn left off. This book follows Scott and his soul mate, Madisyn, as they prepare for their most profound adventure together: the journey of bringing their first child into this world.
Discovering that the miracle of birth is not limited by the physical world, Scott and Madisyn embark on an insight-filled spiritual awakening, where they discover how their entire history has ultimately laid the foundation for their expected child's future. Exploring ancient rituals, unseen worlds, and ancestral healing, the couple soon discovers how we all remain connected to the magical world of unborn children long after we become adults. This heartwarming adventure captures the imagination and reveals what it truly means to be a spiritual being having the ultimate human experience.

GRAND PRIZE: Spa Weekend for Two at the Mount Shasta Resort - Experience the magical mountain that is featured in Winter Moon Rises, with airfare for two from anywhere in the continental U.S., a two night stay at the elegant Mount Shasta Resort at the foot of the majestic Mount Shasta in Northern California, a spa treatment for two at Evergreen Day Spa and a round of golf for two including cart. ($2,000 value)
EVERYBODY WINS: Free e-books, music, meditations and more - Everyone that enters receives several free e-books, music, meditations and more from over 100 generous partners. ($2,500 value)

First, pick up Winter Moon Rises from your local bookstore or one of the following retailers. (You can read the first chapter for free at Amazon)

Next, register to win and access your free gifts:



| | |
| --- | --- |
| | Scott Blum is an author and the co-founder of the popular inspirational website DailyOM. He is also a successful multimedia artist who has collaborated with several popular authors, musicians, and visual artists and has produced many critically acclaimed works, including a series featuring ancient meditation music from around the world. Scott lives in the mountains of Ashland, Oregon, with Madisyn Taylor--his wife, business partner, and soul mate. |


When you buy Winter Moon Rises, you will also receive free e-books, music, meditations and more from our generous partners including:

DailyOM, Hay House, James Twyman, Deborah King, Terra Essentials, Sallie Felton, Lissa Coffey, Marianne Williamson, Hendricks Institute, Edgar Cayce, Spiritual Cinema Circle, Neale Donald Walsch, Natural Solutions, Denise Linn, David Paul, Donna Gates, Arielle Ford, Debbie Ford, Wendi Ida, Coaching From Spirit Institute, Earthdance, Michele Casto, Sonia Choquette, Kathy Scott Perry, Vanishing of the Bees, JV Specialists, PlanetLightworker, Sherry Gaba, Sandra Anne Taylor, Spirit Seeker, Tiffany Chion/ YogaUniverse, Dr. Joe Rubino, Christina Marino, Andrew Harvey, Mary Allan/Life Coach, Rena Greenburg, Hillary Harris, Tom Murasso, Steve Wilson, Becky Hays, Heather Picken, Sequoia Records, Norma T. Hollis, Tal Shai, Ashley Turner, Grant Connolly, Brad Morris & Mathew Ashdown, The Gratidudes, Karen Russo, Kim Dabonne, KG Stiles, Dr. Jenn Royster D. DIV., Rupal Mehta Turner , Serenity Music, Michael Broder, Ingrid Geronimo, Alissa Lukara , Lisa yoga, Suzie Daggett, Sarah Herrington, Chris Cade , Michelle Burselle, Janet Allison, Susan Taylor, PHD, D'vorah Swarzman, Joell Prochera, Patrice Dickey, Lily Jensen, Thea Summer Deer, Max Highstein, Linda West, Pam Coronado, Dawn Allen, White Wing Ent., Inez Bracy, Mary Lane, Linda Howe, Julie Hoyle, Gillian Holloway, Suzanne Giesemann, Diane Wing, M.A., Sophia Ojha, Arupa Tesolin, Kimberly Wilborn, Kathy Curtis, Danielle Gibbons , Gabriella Kortsch, Walter E Jacobson, Beyond Words Publishing, Heaven Meets Earth, Kris Steinnes, Blair McKissock MSED, Ana Caban, Tal Shai, Debra Moffitt, Ana Holub, Michelle Locke, Jen Mcgown, Patricia LaVoice, Jen Mcgown, Kala Ambrose, Zidane Press/Lotus Healing, Mike Robbins, Jim Donavan, Jody Janati, Maria Francesca Trillegi, Kimyon Zari, Roberts Mittman, Jianda Johnson, Apryl Jensen.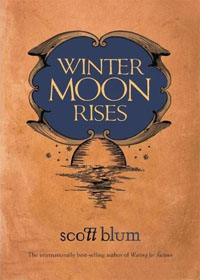 "Scott Blum is a wonderful, metaphysical story teller."
- Deepak Chopra, Author of Muhammad : A Story of the Last Prophet